Play-Based Kindergarten
updated March 5, 2016
Important Reading on the Value of Play:
---
How to De-Mainstream
Yes, people who have plastic and battery-powered toys really do take them all out overnight and change things over to the Waldorf way, with woven baskets of shells and pinecones and stones. I've done it. You simply say, "Oh! The toy fairies have come!!" And the kids are so excited!! They rarely ask where their old things have gone. If so, you can say they are put aside for another time.
Kim John Payne offers some wisdom on this. His explanations are precisely put and calmly logical. This is from Simplicity Parenting: Using the Extraordinary Power of Less to Raise Calmer, Happier, and More Secure Kids
He has a ten point checklist on "toys without staying power." Here it is, in brief:
Discard
1. broken toys
2. developmentally inappropriate toys
3. conceptually "fixed" toys - detailed molded plastic characters from movies, comic books, or television shows
4. toys that do too much or break too easily
5. very high-stimulation toys - flashing lights, mechanical voices, sound effects
6. annoying or offensive toys
7. toys that claim to give your child a developmental edge
8. toys you are pressured to buy
9. toys that inspire corrosive play - play that isn't joyous or pleasant
10. toy multiples - reduce many versions or copies of the same toy to a more manageable and lovable little group

Hope this helps. It's a great book and I highly recommend it as a read for a spouse or grandparents who are trying to understand this new approach!
---
Write a note in your planbook when you introduce a new play material. Here are some suggestions:
FREE Pattern for a Simple Knit Chicken for Beginners
blog post - Wee Folk Art
FREE Knit & Crochet Patterns for Play Kitchen Foods
blog post - Switzerite (this is my blog)
How to Make Waldorf-Inspired Nature Blocks FREE tutorial
blog post - Adventure in a Box
I bought our Cherry Tree Blocks but I'm going to make Zac's by hand.
FREE Child-Size Ironing Board Tutorial
blog post - Duo Fiberworks
One thing we did spend a lot of money on was our beautiful Elves and Angels wooden play kitchen.
How to Hand-Dye Waldorf Playsilks
blog post - Waldorf Moms
Of course, if you prefer to buy playsilks, go for it! This year is the first time I've tried to dye my own.
I was always too intimidated to before, to be honest. I like the Etsy store Beneath the Rowan Tree.
FREE Pattern for Miniature Waldorf-Style Bunting Doll
The Silver Penny
FREE Pattern for Easy-to-Sew Multicolored Felt Ball
The Silver Penny
Sew some simple Beanbags with Streamers
blog post - Acorn Pies
(So fun! For some reason streamers always make beanbags look like they are going REALLY fast!)
---
A Picture is Worth a Thousand Words
In short, follow Earthways. Carol Petrash won't lead you astray. I think your play essentials are

a wooden play kitchen
wooden, felt, or knitted/crocheted play foods
baskets of nature materials such as pinecones and shells
baskets of "magic wool" (colored wool roving)
a Waldorf doll (we got our storyteller dolls from Mon Ange Dolls and our big Waldorf doll from Bamboletta -- in fact, she bartered her first-ever practice doll to me!)
some little gnomes (sewn of felt and stuffed with wool - Earthways, pp.82-83)
wooden tree blocks
colored play silks
felt finger puppets (patterns and puppetry ideas in Around the World with Finger Puppet Animals)
some knitted animals (if you're just learning how to knit, these are super-fun to make for your children)
a pair of playstands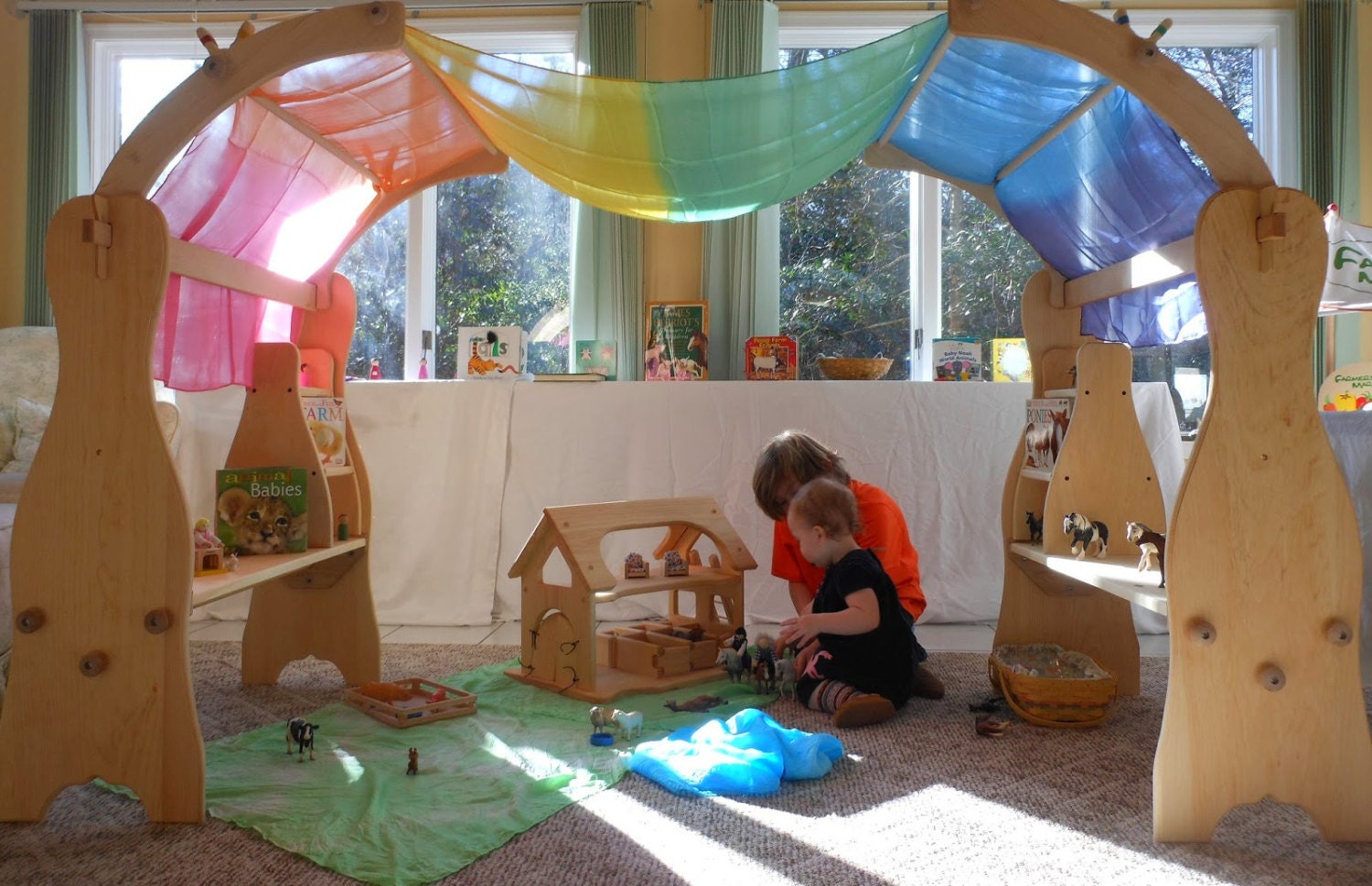 Homemade Playstands
blog post - Growing Roots and Wings
Madison Waldorf School Kindergarten classroom
Wasatch Charter School Kindergarten classroom
Homeschooling with Waldorf
blog post - The Wonder of Childhood
Waldorf Play Rooms
blog post - Moon to Moon